From in front of the camera to behind …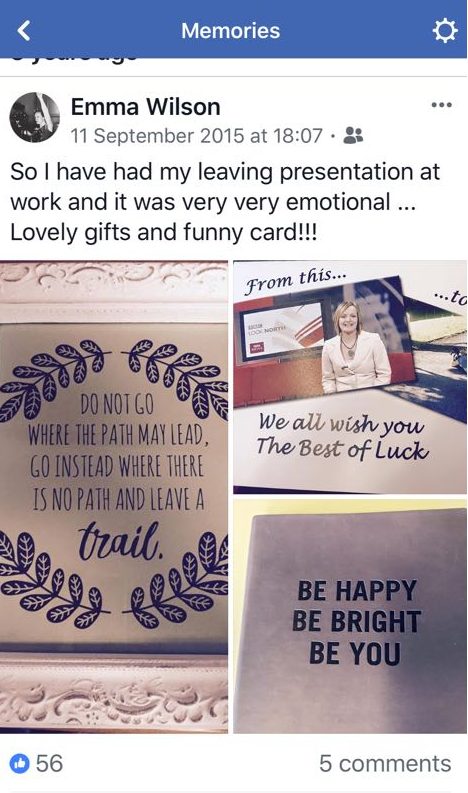 All it took was a little 'memories' reminder on my Facebook App to alert me to how far I've come in just three years.
This week marked the day I left a 25-year career in broadcasting behind me for a new chapter in my life – to concentrate on building up my wedding film business.
Who knew that the quote on the print my BBC colleagues had given me would be so apt…
'Do not go where the path may lead, go instead where there is no path and leave a trail'.
When I embarked on this journey I had only one ambition.
To earn enough money from making weddings so I could run my own life as a self-employed filmmaker and spend more time with my family.
I invested in some new kit and enjoyed the simplicity of it all.
Charging what I thought I was worth to anyone who wanted to book me.
With every wedding commission I was learning new skills but I wanted to define my own style, and offer something different from what other videographers.
This was my first wedding film after leaving the BBC….

I knew from the outset that as a journalist I had a skill that many other filmmakers did not have. An understanding of storytelling. It was my calling card and the reason behind the name, Story Of Your Day and in the future my corporate film company, The Story Creatives.
I also knew that I was more interested in that side of filmmaking than anything else. I was not inspired by having lots of equipment and trying to keep up with the trends. It was to be me, my camera and my vision.
I watched other videographers work, sometimes in awe, and I longed to be a sought after videographer. But I didn't waste my time and energy trying to simulate their work.
There were a few videographers who inspired me because they too had a similar vision of how they wanted wedding films to be. One of those in particular was Argentinian cinematographer Alejandro Calore. I attended one of his early workshops and was not disappointed. He recently wrote of me:
"I remember my surprise when I found out that she had worked at the BBC, a background certainly remarkable for someone who is dedicated to wedding cinematography. She identified with my work style in terms of independence in the mode of production but it was not enough for her to do what everyone did; Emma wanted to go further, develop her own look and strengthen her theoretical knowledge."


Alejandro Calore
This is the first film I produced after that workshop and still remains one of my very favourites in my portfolio.

Finally I was finding my own way. 'A woman with a camera, telling your story'
I had, of course many years of filmmaking, editing and storytelling experience from my time in news and current affairs but this was a whole new ball game for me.
This was a milestone in my new career. As well as concentrating on my filmmaking I was also rethinking my business. Offering 'family' films and 'branding stories'. From being self-employed I became I director of my own Ltd companies, with freelance staff and an assistant.
It was at this point where we had the opportunity to move to Switzerland as a family. What could possibly go wrong? I decided that six months during my 'editing season' would be the perfect solution, so to Wengen we went.

2017, my second full year in business, was a time to thrive. Living in Switzerland (because we never went back to the UK) led to even more destination weddings and my work was attracting higher end commissions from clients all over the world.
A high point was a year ago filming the wedding of Philippine celebrity doctors Vicki Belo and Hayden Kho. As well as appearing in Cosmo and Philippine Tatler, this was my most lucrative commission to date.
"When our wedding director showed us works of different videographers, you stood out. We immediately felt the intimacy of your storytelling. That's exactly what we were looking for: someone who can go beyond just taking beautiful and cinematic shots, to capture the heart & soul of the wedding. We knew that with your 20 years' experience at the BBC, it would be second nature to you to make our story come alive & make people watching it feel as if they were there."
Vicki + Hayden // A Wedding in Paris
This was an epic event and it's not everyday you get to film such an exclusive wedding. But for me it isn't about the size of the wedding but the story I am telling… Everything I do is inspired by my couples.
My most wedding trailer allowed me to return to my storytelling roots, which is where I am happiest. I absolutely love a challenge and Brittany and Ryan's wedding in Davos was just that.

Three years on and almost 250 films later my business is still growing, but I am still learning and my films evolving as my expertise and experience grows wedding by wedding.
While I will never take for granted my grounding at the BBC, I'm proud of what I have achieved since leaving. I have faced many barriers in that time in what is a male dominated videography industry and helped others too with my growing Female Film Creatives Facebook group.

I'm passionate about sharing my knowledge and excited too that Canon UK and Canon Swiss have recognised my work and also my training abilities.
Through my Solo Sessions and Evolve Retreat workshops, I hope that I can continue to inspire and empower more female videographers within the industry.
I'd love to hear your story too.