I am an experienced wedding videographer and I'd say that most of my weddings are referrals. Either from my previous clients or from other suppliers. I work a lot with many fabulous wedding planners and my experiences have all been positive.
PLUS, working with high-end wedding planners leads to working on high-end and lucrative wedding commissions,
Unfortunately, I have been hearing a few 'horror stories' lately from photographers and videographers who've faced a few issues with the planners they have been working with. One of these people suggested I share some hints and tips on how to make working with a wedding planner run as smooth as possible.
But first up, let's hear about these tricky situations that some of my fellow colleagues in the industry have faced.
"I've just worked with a planner on a wedding and it was fantastic. Now, a week later, I have received an invoice from the planner asking me to pay her commission for the recommendation. This was never mentioned to me at any stage by the planner, not even on the wedding day and has come out of the blue. What should I do?"
The typical advice would be to address it directly with the planner but obviously this put this photographer in a very awkward situation.
"It's two weeks until I film a wedding but so far I have not been paid. I was booked via a planner and have had no contact with the couple and getting worried about what to do. The wedding planner is always so lovely and friendly but there's been no mention of when I will get paid and the full amount was due more than two weeks ago"
With this scenario it was important the videographer sorted the financial situation out immediately otherwise the commission was at risk with the couple possibly losing out on having their wedding filmed. The money was paid before the wedding in the end, but exchange rates became an issue too.
This is a wedding I filmed in Paris last year. It is the only wedding I have ever filmed where the contact was with the planner and the planner alone. Even when I sent the 'wedding details form' for the couple to complete it was sent and more or less ignored by the planner.

Of course, this was a very high-profile wedding and I knew that from the initial enquiry, but what I didn't know until I got to Paris was just how much of an event this wedding was to be. The fact that the planner had flown in six, yes six, photographers from LA meant that I immediately felt out of depth.
On arrival in the French city, two days before the main event, we had our first planning meeting and a recce of the Palais Garnier. It was at that point I insisted to the planner that myself and my second-shooter would not be able to cover this adequately without another videographer. I flew a third camera director in that night.
My point is, the planner was in total control from the start but I was powerless meaning I couldn't plan accordingly. For all my weddings I have a detailed call sheet and have spoken to each couple in person. I know what to expect in as much as one can with a 'live event' such as a wedding.
The couple and the planner had interviewed various cinematographers for the commission but I had been too busy. Vicki and Hayden instructed their planner they wanted me based on my experience, expertise and style of work alone.
"A lot of our friends asked why we chose you, someone who is a complete stranger to us & knows nothing about our relationship, to film one of the most important events of our lives: our wedding. The answer is really simple: when our wedding director showed us works of different videographers, you stood out."
"We immediately felt the intimacy of your storytelling. That's exactly what we were looking for: someone who can go beyond just taking beautiful and cinematic shots, to capture the heart & soul of the wedding. We knew that with your 20 years' experience at the BBC, it would be second nature to you to make our story come alive & make people watching it feel as if they were there."
In the end it went amazingly well. But it could have gone so wrong …
As I mentioned before I have worked with some great planners in the past as a team. One planner I have worked with on several occasions is Lucy Wright from Lucy Wright Weddings & Events. She has referred me to many of her clients but there are often times when I don't hear a peep from Lucy in months depending on which clients she is working with.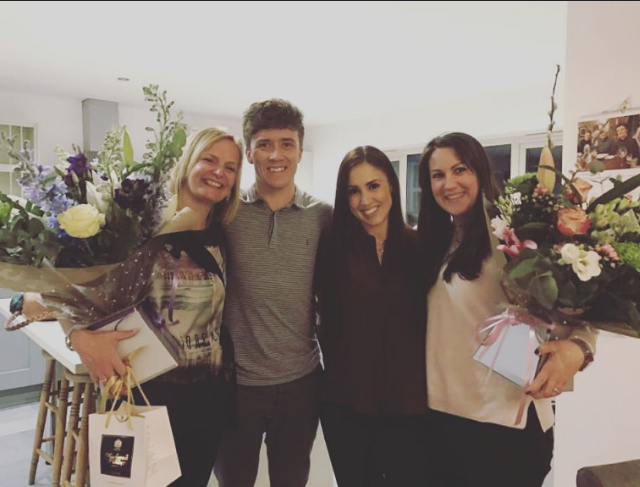 A couple delighted with their wedding videographer – me – and planner – Lucy Wright.
"As with all my supplier I like to match the couple to the right supplier…so when choosing a videographer they have to suit the client's style, personality, budget etc…I only work with suppliers that I trust and know will meet my client's needs…I am very particular with who I work with – and I only work with the best!" 

 Lucy Wright
Lucy will sometimes put the client in touch with me for a consultation and sometimes they book on her recommendation. But whichever way, once they decide to book with me the arrangement is the same as it would be for any client. I follow my standard booking process and towards the day I will touch base with Lucy again to make sure that the schedule I have matches hers.
"I don't deal with money so my clients know they are getting what they pay for….I liaise with the suppliers requesting the invoices and sending them on to my client but I never deal with the payments…it's just another job to do when I actually should be planning and designing." 

Lucy Wright
Other planners work in a more fluid way but make sure that the wedding planner/supplier relationship are clear from the outset.
Kelly Chandler is an experienced wedding planner and is now a business consultant to wedding venues and other planners in the industry.
"Ideally the relationship should all be mapped out (and put in writing) from before a client is even in the frame and when considering working together. Even when that's not possible, at the very first communication it's important to map out how each party sees it working in terms of financials, access to the couple, pre planning and timings of info flow and on the day details. Ultimately it's about communicating clearly & regularly and about each party having mutual respect for each other's business needs and diaries." 

Kelly Chandler
In some cases. there's miscommunication, which happened to me in the case of a wedding at Château de Chenonceau in France last year. The planner was desperately wanting to talk to me but I was waiting for the client to give me the go ahead.
This could have potentially led to all sorts of problems, but luckily for everyone involved the planner and I worked it all out and the outcome was a very beautiful wedding and a great wedding film.
The key is to know how to work with a planner to get the best out of them and so your clients get the best from you too.
My tips on working with wedding planners…
1. Do your homework: Working with planners and working with the right planners takes homework, introductions and relationships. Only then can you be sure that you're put forward for the right weddings and events and that when you are, you can work in harmony with the planner.
2. Find planners that suit you and your work: There's planners to suit everyone's budget from the lower end to luxury wedding planners. If you want to directly approach planners to be recommended by them then make sure you're matched, otherwise it's a waste of time being on 'their books'. Equally, if a planner approached you about a client with an enquiry, check them out before replying because you'll get a much better idea of how and what to quote.
3. Ask for a consultation: When a planner asks for a quote for a client suggest they ask the client to arrange to meet you (I usually do all my pre-booking and planning meetings over Skype/Facetime). Remember the couple is more likely to book you if they talk to you first and there's a connection. So don't leave it all up to the planner to secure the commission.
4. Get to know your planner: Just as you get to know your couples and clients, then get to know the planners you work with. Find out more about how she/he works with their clients and also see if there's anything you can do to help them with their business. Make sure that you always mention and tag your planner in any social media. Not only will they appreciate it but they are more likely to share your posts. Win, win for everyone!
5. Check for a referral fee: Most planners do not ask for a referral fee but make sure that you ask this question before you offer your quote. Because if they expect a referral fee then you need to build that into your pricing. I had the awkward situation recently when a planner said they take five per cent commission so I upped my price accordingly only to find out that they actually use that so-called commission to offer the couple a slightly discounted price on the booking. Confused? I was too. Just make sure you know how they operate to avoid anything like this happening to you.
7. Stick to your booking procedure: Fees, booking forms and contracts should all be between you and the client not the planner: if you stick to your booking procedure then everything will run smoothly. It's fine for a planner to liaise between you and the bride about invoicing in the first instance but, as soon as you can, take back control of the booking, the better. It also means you'll have direct contact with your clients without having to use a 'go between'… which can be frustrating and also cause delays in finding out answers to your questions. Always keep the planner in the loop and confirm with them when the client has booked
8. Stick to your planning procedure: As with the booking procedure stick to your well-worked out planning procedure. Again always keep the planner in the loop as they're bound to have their own timeline and details for the day. So stay in touch and make sure you have them on your side for the day so you are able to get what you need, forget about the logistics and stay creative.
9. Harmony on the day: I always call the significant suppliers ahead of the day including the photographer and the celebrant. I make sure all those involved know how I work and my requirements and ensure I have all the information and permissions I need. Once you have done this you can expect your filming day to run more smoothly. There's nothing worse than the speeches starting without you being ready so just touch base with the planner throughout the day to ensure you're always on their radar.
10. Post wedding love: Now is the time to thank your planner for their help on the day and keep them up to date with when the film, especially the Trailer, will be delivered because then you can make the most of sharing in on social media with them also promoting. As I said above, always mention and tag your planner. Share the love!
For more 'tricks of my trade' and further videographer training, both in business
as well as filming and editing, please get in touch for more details.